The Sex Spa 2: Body Work
The Devil Says
See It
(Or something similar)
I missed The Sex Spa 1, so there might be intricacies of the complex story of The Sex Spa 2 that went over my horns, but due to my semi-omnipotence, I still managed to work out the basics. You see, naked people give massages to other naked people, and more often than not, they have sex.
OK, I'm simplifying matters. The Sex Spa 2 has quazi-developed characters, and while it isn't twisting or multilayered, the plot actually goes somewhere. Kelly and George are ex-lovers who still have sex. Ah, what a fabulous definition they have of "ex-". They're also masseuses who want to quit their current jobs and start up their own business. Kelly attempts to keep things "legit" at work, but George fucks all of his clients and tries to get them to invest. This is one of those interesting worlds where a male prostitute has only hot, young, female clients. When the wealthy husband of one of George's satisfied customers gets the hots for Kelly, it looks like romance is in the air, which is going to confuse things for everyone.
A standard massage session
After watching a string of firmcore clip flicks, it's nice to see one where the characters fucking on screen are defined. It's so much sexier when I have some involvement with the girl doing all the moaning. I have nothing against background sexual scenery, but movies should be more than that. The Sex Spa 2 starts as yet another vignette film as girls come into the spa and jump on George, but drops of character development slowly sprinkle in. By the end, I had a notion of who Kelly was, and I liked her. I liked how she writhed and thrashed even more.
How to treat the boss
I don't want to get to wrapped up in plot and character; this isn't Citizen Kane. I just want to point out that it isn't entirely devoid on those fronts, and besides, when was the last time you watched Citizen Kane and exclaimed, "Damn, that babe has fine tits!"?
Kaylani Lei is the main babe whose tits you'll be discussing. Asian, gorgeous, and often nude, Ms Lei can even act well enough for her part. She's a harcore actress, but acquits herself more than adequately when she has lines and nothing is shoving in and out of her. The other nubile femmes are all drool-worthy, and if most have little dialog, they do have big breasts. Mary Carey, the one-time California gubernatorial candidate, puts in an appearance to shake her prodigious mammaries.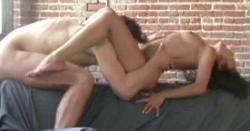 Guys, this is how you say hello to
a beautiful lady
The Sex Spa 2 is nothing special, even if some of the babes within it are. It's a nice little softcore opus where the quality of the acting and camera work don't distract from the eroticism. With the production values of the average softcore skin flick racing downward, it's refreshing to see a movie in the genre where everyone has basic movie-making skills.
There's enough of a movie here to sit down and watch, as opposed to fast-forwarding to the "good bits." The Sex Spa 2 won't offend anyone and should set the mood for couples who aren't that wild.
| | |
| --- | --- |
| Pride | Nada. |
| Sloth | Nada. |
| Avarice | Money buys you a massage parlor, but it doesn't seem to buy happiness. |
| Gluttony | Nada. |
| Aesthetics | From the looks of the grounds of the "massage parlor," I think the place is adjacent to Eden. (And remember, I've seen Eden. It's very nice. Very natural. Lots of trees.) Prettier than the location are the stars. There's some very aesthetic tits and ass on display. |
| Surrogate Cruelty | Nada. |
| Thought | Nada. |
| Humor | Most of the film is light, but no real jokes. |
| Lust | 8 male/female and 1 female/female sex scenes. Some even have a buildup before the couple goes at it. There's plenty of attractive nude flesh and Kaylani Lei certainly makes me happy. |