Girls in Prison
The Devil Says
See It
(If you are a W.I.P. fan)
A loving tribute to Women in Prison films (W.I.P. for short), Girls in Prison is filled with campy goodness. All your favorite clichés are here: nude showers, an innocent "good girl" tossed in with murderers, lesbians, stabbings, psychos, the unending and certainly needless pushing of laundry carts (is every female given her own laundry cart to randomly move about when she enters jail?), and plenty of bitching about how the world is unfair. It's all joyously silly, but perhaps too proud of its heritage. There's plenty to laugh at, but too often the goal seems to be to conjuror up fond memories of early W.I.P. movies instead of going for the joke. With a few more gags, Girls in Prison could have entered Airplane! territory. With a couple more bare breasts, rope bondage, and a lesbian rape, it could have been top notch exploitation. It falls short of what it could have been, but it's still a hoot.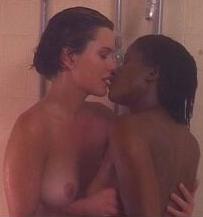 Shower Buddies
In the early 1990s, cable channel Showtime produced a series of remakes, in name anyway, of American International Pictures' 1950s-era, cult, C-movies. 1956's Girls in Prison wasn't screaming to be resurrected, but then the result has little to do with the original and more to do with the genre as a whole. Aggie O'Hanlon (missing from the original) is a country singer framed for murder. In the big house, she befriends, part-time lesbian Melba, full-time lesbian Carol, and pleasant psychopath Suzy. It seems that Jennifer, a hot music agent, has framed our plucky hero and stolen her certain-to-be-a-hit song. Naturally, she can't have Aggie blabbing the truth, so she hires some locked-up hit girls to take her out.
Anne Heche after bleach.
They are real and magnificent
Yeah, it's all pretty silly, and when everyone understands that, this is great fun. Nestor Serrano, as the manipulative son of a mob boss, and Nicolette Scorsese, as a convict who just isn't right in the head, get it, playing their parts with over-heated gusto. They know how to steal scenes. But even they seem small next to Anne Heche, who's sexy, funny, and ten times broader than reality. Her Jennifer is evil with a capital E. Oh, what the hell, make it a capital V, I, and L as well. And she's got great tits. Plus, I love her as a brunette. Yeah, she's a blonde in the screen capture, but she's a brunette earlier...trust me. Unfortunately Missy Crider takes her role as Aggie almost seriously, slogging down the goofy absurdity with standard prison drama material. But the over-the-top giddiness and nipples win out over the less interesting character development, earning Girls in Prison a spot on every W.I.P. fan's DVD shelf.
| | |
| --- | --- |
| Pride | Nada. |
| Sloth | Nada. |
| Avarice | Nada. |
| Gluttony | Nada. |
| Aesthetics | Some pretty female flesh. |
| Surrogate Cruelty | Stabbings, beatings, and a sack race. |
| Thought | Nada. |
| Humor | There's a lot to make you smile and a little to make you laugh. |
| Lust | Ione Skye and Bahni Turpin as nude lesbian shower buddies was a great way to start. Anne Heche oozes sex, dressed and undressed. But there should have been more nubile prison babes naked behind bars. |